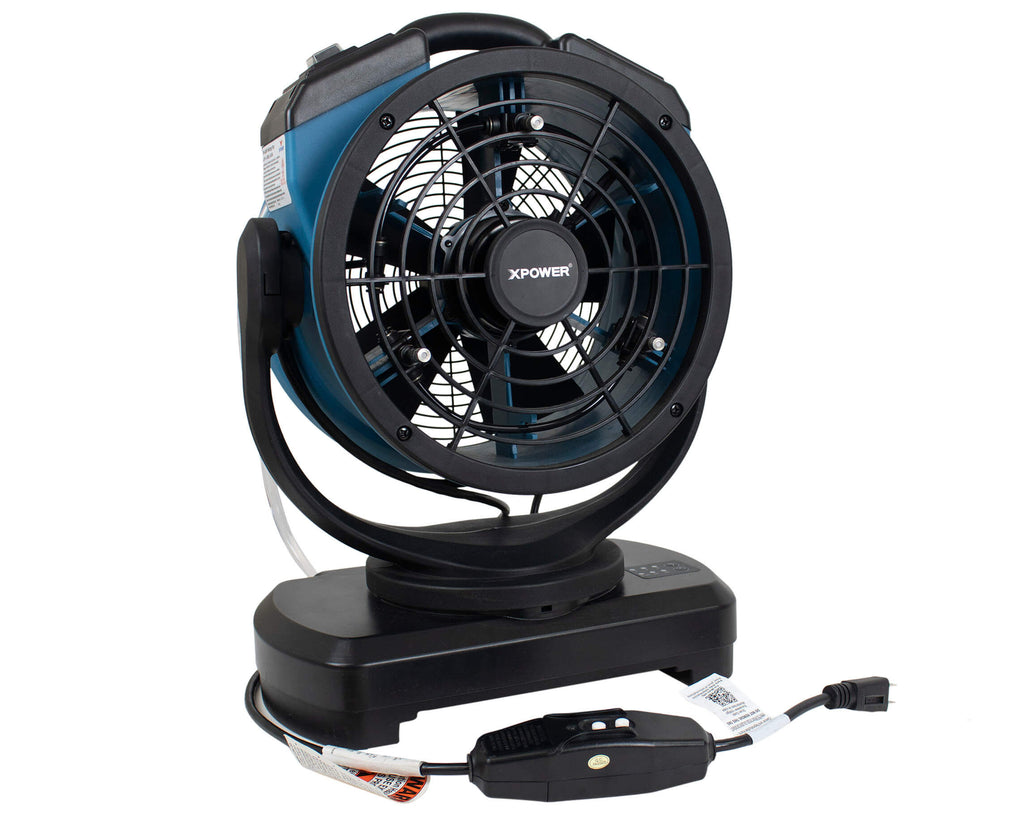 XPOWER FM-68W Multi-purpose Oscillating Misting Fan with Built-In Water Pump
$209.00 $262.00
XPOWER FM-68W Multi-purpose Oscillating Misting Fan with Built-In Water Pump
The FM-68W from XPOWER is a remarkably versatile product with an integrated water pump that now oscillates for maximum coverage and cooling for all of your outdoor events. You can use a water source like a 5-gallon bucket or XPOWER's WT-90 water reservoir for the convenience of a mobile water source instead of a garden hose line attachment. With our inline GFCI circuit protection, we provide a truly mobile misting function while keeping safety in mind.
Use the FM-68W oscillating misting fan on your patio for outdoor parties, sporting events, pool areas, and even gardening/greenhouse purposes. Keeps you cool for your backyard activities while remaining stylish and rugged for the outdoors. Our misting fans can reduce ambient temperatures by up to 25 degrees Fahrenheit. Disconnect the water line and use the extremely energy efficient 0.65 amps and powerful 1000 CFM airflow in your indoor setting for complete whole room circulation.
Key Features
Built-in water pump makes this truly a unique mister
Mobile and convenient misting, no longer tied down to a water line source
Capable of utilizing a water source like a 5 gallon utility bucket or our optional WT-90 water reservoir base for ultimate versatility
Water line with built-in filter for maintenance free operation
Independent water pump speed control, water pump timer, and 3 speed air speed
Dial in the perfect amount of mist and air speed to achieve your desired cooling effect
Inline GFCI Protection built-in for safety against accidental shock
Dual-purpose utility fan for both air circulation and Misting
Cooling solution that creates a comfortable outdoor environment
Convenient oscillating feature for maximum coverage and cooling
Can lower ambient temperatures as much as 25* Fahrenheit
Utilize indoor without the misting feature as a whole room air circulator for cooling and ventilation
Perfect for outdoor living: cool down patios, pool areas, picnics, and outdoor activities
Set up in your garden and greenhouse to keep plants healthy
Lightweight, compact and durable polypropylene (PP) plastic housing design
Features a sealed motor to protect it from contaminants and water damage
3 adjustable speeds with 145* tilt position and 56* oscillating feature
Energy efficient, only 0.65 Amp draw with 1,000 CFM airflow output
Easy carry handle and cord wrap design
ETL/CETL safety certified and meet OSHA safety requirements
Specifications
VOLTS / CYCLE -

115V / 60 Hz



MOTOR -

70W



AMP -

0.65 

A



RATED AIRFLOW -

1000 CFM



SPEEDS -

3 Speed Control Switch



UNIT WEIGHT (LBS) -

13.6



UNIT DIMENSIONS (L X W X H) -

14.8" x 8.5" x 20.1"



BOX WEIGHT (LBS) -

17.2



BOX DIMENSIONS (L X W X H) -

21.5" x 9.8" x 16.1"



CORD LENGTH - 10 ft

HOUSING - Polypropylene

SAFETY CERTIFICATIONS - ETL / CETL
1-Year Manufacturer's Warranty
XPOWER Warranty covers the unit from defects in materials and craftsmanship. The Warranty covers normal use for a term of one year from the original date of purchase including parts, labor, and one-way shipping. The XPOWER Air Mover Housing is covered for a term of five years from the date of the original purchase.
XPOWER ships from California via FedEx Ground
As soon as your order ships, we will send you a shipping notice with a tracking number. Use the map below to estimate the transit time needed for your item to be delivered from our warehouse to you:

Fast Shipping
We do our best to ship FAST and make it easy for you.  At the top of this page, we have noted how long it normally takes to process and ship your order.  You can then use the map above to estimate delivery times.  We will send you an email confirmation with the tracking number as soon as your order ships.
Please see our Shipping Policy for full details.
Returns
Things don't always work out, we get it.  We'll do our very best to make your return simple and easy.  Please email us and we'll provide all the return instructions for your specific item and an RMA number (required).
Please see our Return Policy for full details.