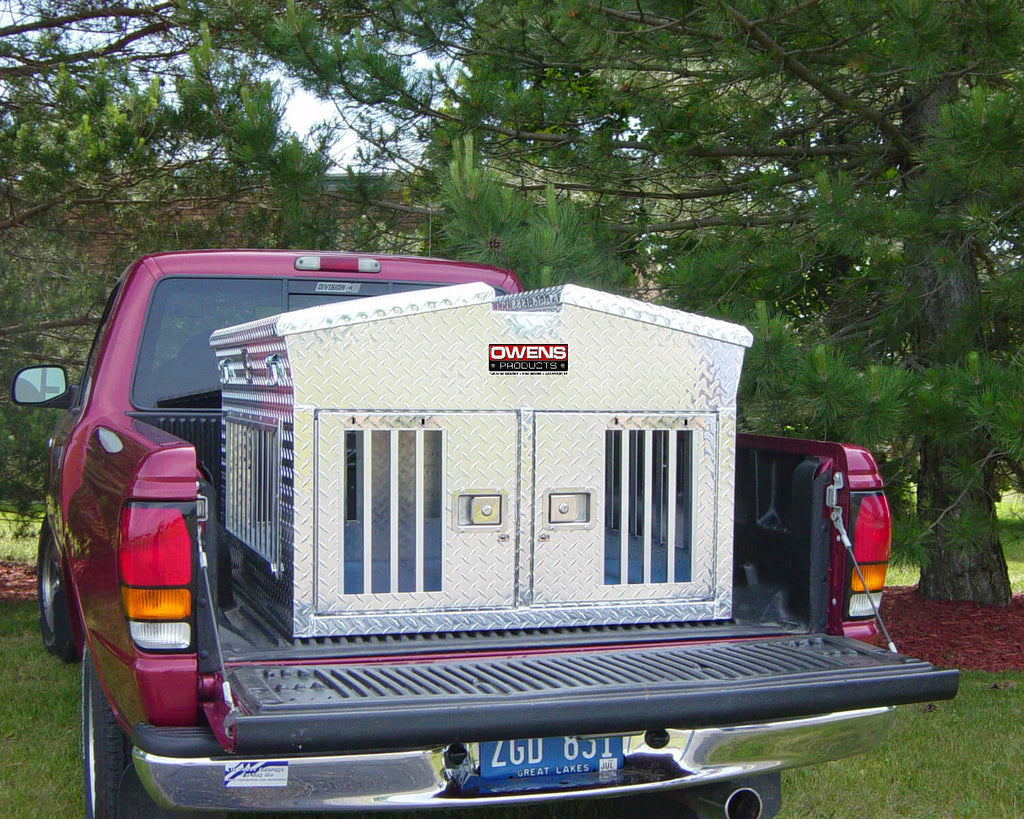 Owens Dog Box Hunter Series Big T Double Compartment With Dual Lid Top Storage
$1,417.00 $1,491.00
Owens Big T Double Compartment With Dual Lid Top Storage
Large lined dog compartments with lockable slam latch doors, either with Standard Vents or All Seasons Vents for maximum air flow, and a tough diamond tread aluminum construction are all features of our Hunter Series Dog Boxes. Single, double, and triple compartment dog boxes from the Hunter Series by Owens Products are also available with or without top storage.
Tall dual dog compartments are lined with plastic corrugate and have a durable diamond tread aluminum construction. Our largest capacity lockable top storage compartment for valuables, including firearms, electronics, hunting gear, and more, is found on the Big T. The dual top storage lids on the Big T also make it easy to access your gear from the side of your truck. Doors with storm covers and lockable slam latches have slots for crate cooling fans. Large, all-season side (12 x 30) and rear (12 x 12) vents with storm covers are provided for maximum airflow. There are air holes in the center divider to allow cross ventilation between the compartments. Premium spring-loaded carrying handles that don't rattle. D-rings that can be used to fasten things down in your car.
Features
Double Compartment w/ Top Storage
Rugged diamond plate aluminum construction
Lockable top storage unit for valuables
Plastic corrugate lined dog compartments
Center dividers have air holes for cross ventilation
Lockable slam latch doors with safety latch
Removable storm covers
Doors with storm covers are slotted for crate cooling fans
Premium rattle-free spring loaded carrying handles
D-rings that can be utilized to strap down in your vehicle
Proudly Made in the USA
| | |
| --- | --- |
| All Seasons Vents | 12 x 30 Side Vents / 12 x 12 Rear Vents |
| Overall Dimensions | 38 W x 45 D x 30 H |
| Dog Compartment | 19 W x 43.5 D x 18 H |
| Storage Dimensions | 38 W x 45 D x 6 H |
| Box Weight | 110 lbs. |
| Material |  .063 Diamond Tread Aluminum |
| Finish | Polished |
*Shipping Note - Each dog box is made to order and can take 2-4 weeks manufacturing time before it can be shipped.
1 Year Manufacturer Warranty
Owens Dog Boxes come with a 1-year manufacturer warranty from Owens Products to be free from defects in material and workmanship.
Owens Products Ship via Freight Carrier
Each Dog Box is made to order and ships within 2-4 weeks. If your item happens to be delayed, we will contact you.

Transit time can vary based on your location and normally takes 3-6 business days.

You will receive a shipping notification with tracking when it ships

Please ensure you fill out the shipping details accurately to avoid additional carrier fees. See definitions below to ensure you choose the correct options for delivery.
Freight Shipping Details
We use freight shipping for some items if they are oversized or the weight exceeds 150 lbs. There are several options that need to be selected when using freight as a delivery method, items arrive on a large shipping truck and require additional information to deliver properly.  Below are the definitions of these options. It's important to choose the correct option for your delivery location or there may be additional fees charged to you by the freight company. 
Freight shipping normally takes 3-7 business days to arrive.  Once the freight carrier arrives in your area they will contact you to make an appointment before delivery is attempted.
Residential Address
A residential address is defined as any location that is zoned as residential real estate. If you own a business that is operated from a home, apartment or other dwellings where people live on the premises it is considered "residential".  Liftgate service (see below) is strongly advised for residential addresses; it is not automatically included and we have found that most residential addresses are not suitable for delivery without liftgate.
Commercial Address
A commercial address is defined as an area zoned commercial real estate or zoned by your local municipality as a commercial site. Most commercial addresses are used exclusively for business and have tractor-trailer access with a loading dock.
Liftgate Service
A liftgate is a motorized platform attached to the back of the truck that will physically lower your order to the ground so that you can take it inside your business or home. The truck driver will place your order on the ground using the liftgate and you are responsible for bringing it inside.
Liftgate - Choose this option if you DO NOT have a commercial loading dock, additional fees may apply.
No Liftgate - Choose this option if you do have a commercial loading dock.
*Note - delivery agents are not able to assist once the freight has been dropped off.  Please ensure that you have enough help or equipment to safely move your new item into place at your location as the driver cannot assist in this.